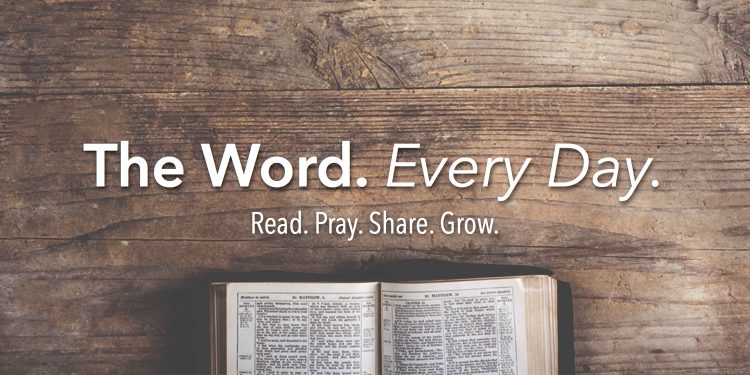 Normal Christians don't read the Bible.* Be abnormal.
* 80% of churchgoing Christians do not read the Bible daily and 90% have never read the entire Bible. (LifeWayResearch.com)
Read God's Word every day. Make 2018 a better year with Jesus. Join your church family on a year-long journey through God's Word. Together we'll commit to read the Bible every day. We'll pray individually and together as a church family. As God speaks to us through His Word, we'll be intentional to daily share Christ's love with others. And we'll grow spiritually as we fall in love with Jesus Christ all over again.
The Bible Reading Plans
4+1 Plan. Our recommended Bible reading plan will guide you through the entire Bible in one year (you'll read the Psalm twice). With four separate sections of Scripture assigned each day plus a reading from the Psalms, this plan keeps your Bible reading fresh and varied. And with only six days per a week, you'll have an extra day for catching up on your Bible reading. Pastor Sean's weekly Sabbath sermons will be based on this plan's weekly Bible readings, helping add depth to your understanding of God's Word.
New Testament Plan. Does reading through the entire Bible in one year seem overwhelming? You can easily adapt our recommended reading plan. Simply read the daily New Testament readings to read through the New Testament in one year. Feel like you can handle a little extra? Add the daily Psalms reading, and you'll also read through the Psalms twice.
Make 2018 a Better Year With Jesus
Read God's Word each day. Pray intentionally daily. Share a spiritual insight every day with someone else. And you'll grow. It sounds simple because it is! Make the commitment and experience the power of The Word. Every Day. 
The Bible App
The YouVersion Bible app is the most popular Bible app for both iOS and Android phones. Download it for free. Use it to track your daily Bible reading (you can sign up for our plans through the links provided above). You can even share your Bible reading progress with others and share spiritual insights when you sign up for our Bible reading group.
Download the Bible app for iOS (iPhone).
Download the Bible app for Android.